Connect and have More Fun, Together!
Does the busyness of life crowd your time for quality connection? Do you find your mind constantly in PROBLEM solving mode? Need a little help to break through and break free from the mundane? Let us partner with you to move forward and enjoy marriage as God intended. Click the link below and begin connecting more, through our Marriage Membership and Couples Coaching!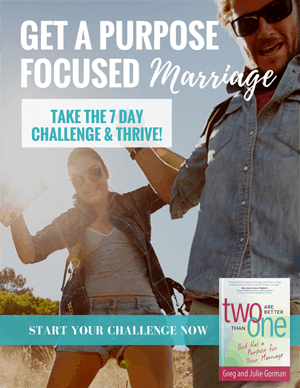 Enjoy this 7-Day Reading Challenge, specifically crafted to help you develop a greater, more purpose-focused, not problem-focused, relationship.
He designed you with distinction. God joined you for a purpose and destined you, together, for greatness.
ENTER YOUR EMAIL BELOW AND THE CHALLENGE WILL BE EMAILED TO YOU FOR THE NEXT 7 DAYS.
Then, stay tuned for more details about the Marriage Mentoring Facebook Group. 
By submitting, you are granting permission to Married for a Purpose and Greg & Julie Gorman to send you information and updates.
Your unified passions, when aligned with God's, are unstoppable!
Greg and Julie Gorman provide life-transforming content and coaching for your business and life. They write, produce, and host weekly broadcasts and hold certifications from the Patterson Center, Dr. John Maxwell, and Personality Insights Institute. As executive coaches, trainers and speakers, Greg and Julie share together internationally and have enjoyed sharing the platform with many well-known speakers such as Les Brown, John Maxwell, and many more. Together, Greg and Julie coach and inspire individuals, organizations, and couples to maximize their potential and embrace life to the fullest.
Greg and Julie built Gorman Leadership on the core values of excellence, integrity, and authenticity, the same values they carry in life and marriage. Their relationship is an example of strength and a model for making marriage and business thrive. They, along with their three children, make their home in southern Florida.
"PURPOSE FOCUSED. NOT PROBLEM FOCUSED."
As entrepreneurs and owners of small businesses, certified life coaches, and most of all parents of two teenagers and a now twenty-something-year-old, we understand busy! We identify with the challenges that present themselves on any given day. And, comprehend the struggles that occur in ever day life. When first married, we allowed those struggles to divide us. We lived into our problems. If it could be done wrong; we did it.
As God taught us the powerful truth that problems divide; purpose unites; we made a decision to pursue and seize a purpose-focused marriage and it changed everything! So whether in books, video curriculum, or conference retreats, couples will enjoy PURPOSE-focused topics that provide inspiration to live Married for a Purpose!
RAVING REVIEWS for Married For A Purpose
"Our life is and amazing journey one that should always be enjoyed by a husband and wife. Recently I had a bump in the road of happy. I read Greg & Julie Gorman books and they were instrumental in guiding us through the issue. We were so impressed we took it one step forward and now we are being coached by them. We feel so much love and gratitude and hope when we are finished with our session. I guess I can say thank you lord for answering my prayer and bringing your guidance to us through Greg & Julie Gorman. We are full of gratitude."
Cynthia and Vince Restivo
"We have always known we could be a strong team; we both have strong personalities and skill sets. Two Are Better Than One helped us to unite our strengths around a MUTUAL purpose. We are both passionate and purpose-filled people and creating a partnership in purpose for our marriage helped us recognize our synergies, taught us to focus our energies on areas that fuel our purpose in marriage, and deliver the most impactful results."
Jennifer and Mike Posegate
"We would consider our marriage to be a pretty normal marriage, maybe even a pretty good marriage. We are not exempt from experiencing the weight of everyday life. We have ministry, family life, mental health issues, and infertility struggles (just to name a few) that were becoming the focus of our relationship. After our church's conference with Greg and Julie Gorman we were refreshed and purpose-focused rather than problem-focused in our marriage. We remembered everything we had in common. Everything that was fun about being us. We were challenged to set common goals and to pray with one another. To prioritize the time and effort it takes to have a healthy God-centered marriage."
"Greg and Julie have an immense drive to see God work in your marriage. Their ability to communicate proven and sustainable principles to help you discover God's intended purpose for your marriage is by far one of the best systems to assist you in your relationship journey. We have found value in the recourses and teaching resulting in a better awareness and understanding of God's purpose for our marriage. Above and beyond Greg and Julie's publications, they have coached and taught thousands of people in presenting Biblically founded and realistic principles to propel your marriage into a space that allows for maximum impact in relationships."
Are You Purpose-Focused or Problem-Focused in Your Marriage?
Take the quiz to find out now and receive a weekly word of encouragement.